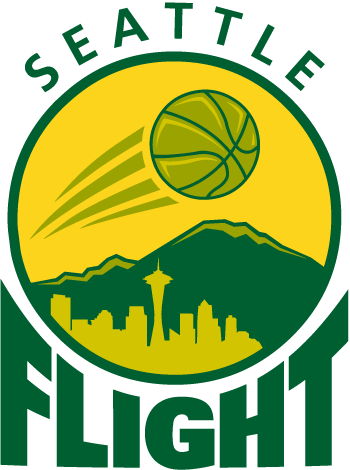 Pro Basketball returns to Seattle! Talent in the 206 will be showcased in the IBL on the court as athletes gain experience to go to the D-League seeking that second NBA look, and overseas, for their fans, friends and family.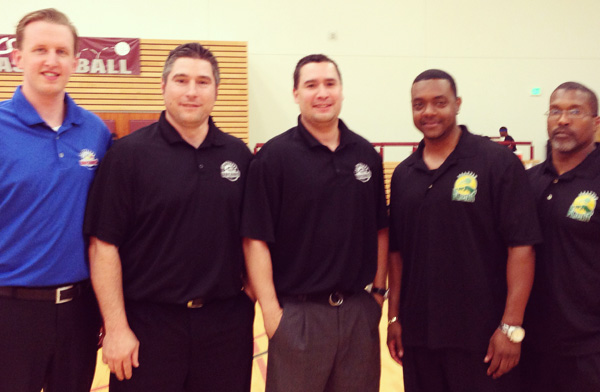 Seattle Flight Coaches Rob Brown and Chuck Taylor with Volcanoes Coaches Joe Navarro,
Bryan Hunter and Jeff Christianson.
Seattle Flight Top News
---
2014 Roster
---
| | | | | | | | | |
| --- | --- | --- | --- | --- | --- | --- | --- | --- |
| # | Player Name | Height | College or Last Pro | Position | Games | Points | Rebounds | Assists |
| 1 | Avery Scharer | 6'3" | Shoreline Community College | Guard | 0 | 0.0 | 0.0 | 0.0 |
| 3 | Carlos Singer | 6'1" | Hardin Simmons | Guard | 0 | 0.0 | 0.0 | 0.0 |
| 8 | Will Conroy | 6'2" | Minnesota Timberwolves (NBA) | Guard | 0 | 0.0 | 0.0 | 0.0 |
| 8 | Dontae Jones | 5'11" | Olympic College | Guard | 0 | 0.0 | 0.0 | 0.0 |
| 10 | Antonio Chavers | 6'2" | Washington State | Guard | 0 | 0.0 | 0.0 | 0.0 |
| 12 | Alvin (Al) Snow | 6'2" | Sigal Prishtina (Kosovo) | Guard | 0 | 0.0 | 0.0 | 0.0 |
| 15 | Reggie Robinson | 6'4" | Lakewood Panthers | Forward | 0 | 0.0 | 0.0 | 0.0 |
| 20 | Mike James | 6'2" | Lamar | Guard | 0 | 0.0 | 0.0 | 0.0 |
| 21 | Marcellus Kemp | 6'5" | University of Neveda | Forward | 0 | 0.0 | 0.0 | 0.0 |
| 23 | Jamie Booker | 6'4" | University of Washington | Guard | 0 | 0.0 | 0.0 | 0.0 |
| 32 | Antonio Colins | 6'4" | Green River Community College | Forward | 0 | 0.0 | 0.0 | 0.0 |
| 33 | Jody Johnson | 6'4" | Central Washington University | Forward | 0 | 0.0 | 0.0 | 0.0 |
| 34 | Richard Smith | 6'7" | George Fox University | Forward | 0 | 0.0 | 0.0 | 0.0 |
| 40 | Seamus Boxley | 6'7" | Hovelra (Ukraine) | Forward | 0 | 0.0 | 0.0 | 0.0 |
2014 Schedule
---
| | | | | | | |
| --- | --- | --- | --- | --- | --- | --- |
| Friday | April 25th | 7:00PM | Seattle Flight | @ | Bellingham Slam | 93 - 143 L |
| Friday | May 16th | 7:00PM | Seattle Flight | @ | Bellingham Slam | 99 - 124 L |
| Saturday | May 31st | 7:00PM | Seattle Flight | @ | Vancouver Volcanoes | 128 - 131 L |
| Saturday | June 7th | 7:00PM | Bellingham Slam | @ | Seattle Flight | 115 - 106 L |
| Saturday | June 14th | 7:00PM | LoneStar Strikers | @ | Seattle Flight | 107 - 136 W |
| Friday | June 20th | 7:00PM | Seattle Flight | @ | Bellingham Slam | 118 - 139 L |
| Saturday | June 28th | 2:00PM | Seattle Flight | @ | Salem Sabres | 144 - 136 W |
| Saturday | June 28th | 7:30PM | Seattle Flight | @ | Bellingham Slam | 105 - 136 L |
Contact Information
---
| | |
| --- | --- |
| Email | info@ibl.com |
| Head Coach | Rob Brown |
| Assistant Coach | Chuck Taylor |

Sponsors

---